Weekly Natural Gas Market Newsletter April 10th, 2023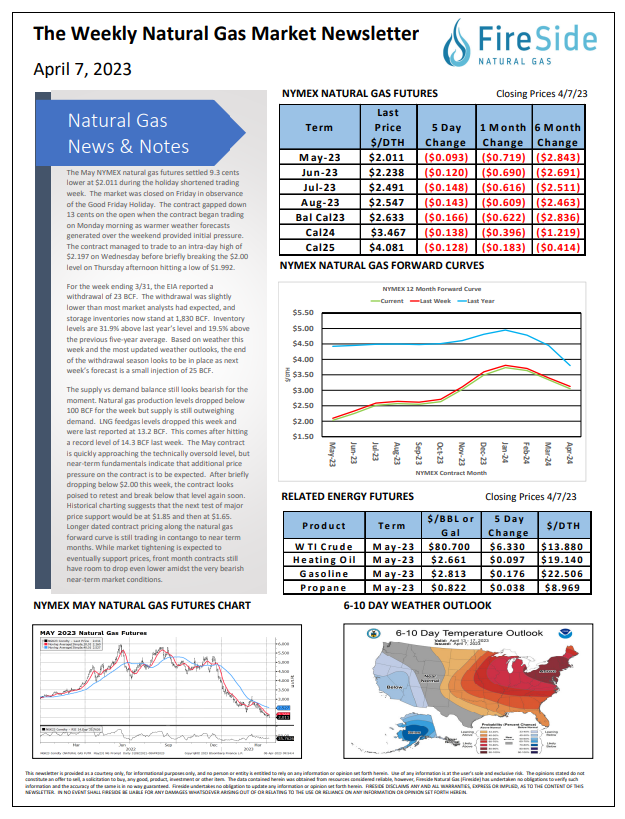 The May NYMEX natural gas futures settled 9.3 cents lower at $2.011 during the holiday shortened trading week. The market was closed on Friday in observance of the Good Friday Holiday. The contract gapped down 13 cents on the open when the contract began trading on Monday morning as warmer weather forecasts generated over the weekend provided initial pressure. The contract managed to trade to an intra‐day high of $2.197 on Wednesday before briefly breaking the $2.00 level on Thursday afternoon hitting a low of $1.992.
For the week ending 3/31, the EIA reported a withdrawal of 23 BCF. The withdrawal was slightly lower than most market analysts had expected, and storage inventories now stand at 1,830 BCF. Inventory levels are 31.9% above last year's level and 19.5% above the previous five‐year average. Based on weather this week and the most updated weather outlooks, the end of the withdrawal season looks to be in place as next week's forecast is a small injection of 25 BCF.
The supply vs demand balance still looks bearish for the moment. Natural gas production levels dropped below 100 BCF for the week but supply is still outweighing demand. LNG feed gas levels dropped this week and were last reported at 13.2 BCF. This comes after hitting a record level of 14.3 BCF last week. The May contract is quickly approaching the technically oversold level, but near‐term fundamentals indicate that additional price pressure on the contract is to be expected. After briefly dropping below $2.00 this week, the contract looks poised to retest and break below that level again soon. Historical charting suggests that the next test of major price support would be at $1.85 and then at $1.65. Longer dated contract pricing along the natural gas forward curve is still trading in contango to near term months. While market tightening is expected to eventually support prices, front month contracts still have room to drop even lower amidst the very bearish near‐term market conditions.